Remember... all of your participation in the Wordtrip challenges go towards your chances of being the next WotM.
jillstar wrote:

The Picture Perfect Writing portion of Wordtrip is used to inspire writing through the "VISUAL" of life. Look at the picture below and write whatever comes to mine... short story, Fast Fiction or novel... even a poem may be inspired from this picture.

For more information... click

HERE

.

Here's your next picture challenge to inspire us to write. Write an opening line, paragraph or even a short story to go along with the picture. Perhaps even begin a new novel! Maybe members would like to use these as future tags... just ask the person who starts it if it's ok to use.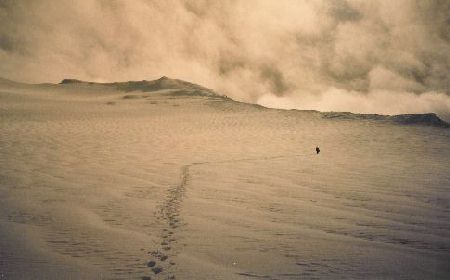 This week I thought we would focus on solitude. I was told this was a picture of a person walking in the snow... but as Charles points out, it looks like sand. So... it is up to you to decide if your character is walking in snow or sand.

Where is this person going? Why is he or she alone? What is there to be found in the mountains? Is this the last trip this person will ever make? Will this person be taken by aliens? Is he meeting a large group of people for a big party on the slopes?