Dragon Insurrection, the sequel to the best selling book, The
Dragon Creed, is out at fictionwise.
http://www.fictionwise.com/ebooks/eBook42421.htm
#1 Bestselling Series! Once again, Farquarte, newly changed from Homo Sapiens to Reptilians Dragonus, discovers what it means to be a huge fire-breathing reptile in a land that is decidedly not dragon friendly.
All Farquarte wanted to do was to build a dragon hoard and settle down with his mate. But when the corrupt government of his homeland interfered, Farquarte decided to mount a revolution.
The royal government declared Farquarte a wanted criminal. Then the Royal Scientist attacked him. Now the fate of the magical people and Farquarte's life hang in the balance. Farquarte the Dragon is imprisoned by his enemies and scheduled for execution. An evil scientist seeks to destroy him and gain his dragon's hoard. His mate is enslaved and his father's ghost is trapped in Purgatory.
What's a dragon to do?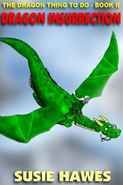 Cover art: Tabitha Brown and Phil Smith