eBook Category: Fantasy/Humor
eBook Description: "Susie Hawes has a light touch and comic sensibility! By the time I reached the end I wanted to start reading it over!" writes Zara Baxter of Andromeda Spaceways Inflight Magazine. You will discover what Zara Baxter was raving about when you read this first of a delightful quartet of very different dragon novels.
When you're the only dragon in a country where magic is illegal, what's a dragon gonna do? Fechum is an old dragon, lonely and crippled. Farquarte is his human apprentice. The society they live in is oppressive, over-regulating its citizens and suppressing its magical people. Farquarte decides the government needs an attitude change.
Take a disgruntled old reptile, a greedy human apprentice and an oppressive government. Add in an Elven love interest, a Park Ranger and a ghost with serious attitude problems. Toss in shape changing, spice liberally with magic and a little friendly patricide and you have the makings of a romp through mystical lands, or a revolution, whichever suits
your fancy. Join Farquarte and Fechum as they plan commerce and
insurrection. Meet a Cajun Elf and a dastardly mad scientist.
Explore the Dragon Creed as Farquarte, newly changed from Homo
Sapiens to Reptilians Dragonus, discovers what it means to be a huge fire-breathing reptile in a land that is decidedly not dragon friendly.
"Viva la Revolution!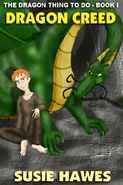 Cover art: Tabitha Brown and Phil Smith.
http://www.fictionwise.com/Z169193HA523/eBooks/eBook41486.htm
The Dragon Creed, available at fictionwise.com